Fields of Grain
A field of French Wheat sparkles; golden water in the mid-day sun. Come evening time, the wind picks up, the wheat rustles and sways, the sun sets low, setting it aglow; green and fiery glitter.
May we be nourished and be of nourishment to others. May our inspiration know no bounds.
French Field
To my surprise I feel just as (if not more so) at home by these country roads than I feel in the very country and town where I was born and raised!
May we be at home, wherever we are. We have the choice to see beauty and welcome it, wherever we roam.
Fields That Follow The Sun
In Italian, a sunflower is called girasole. Gira means turn and sole means sun.
Just one commands your attention, but a whole field is something to behold!
May we see. May we live shoulder to shoulder with others as impressive as ourselves, in fields of many that follow the sun.
Secret Garden
I imagine the door leads to a magnificent garden. A jungle of color and smell and life!
I imagine there is a large table inside, set for a large group. Flowers are on the table and food is on its way.
May we cultivate our secret gardens and take steps towards what is on our hearts. May we be on our way to a great celebration.
Country Monastic
I imagine this ancient abode, while rustic on the outside, is filled to the brim with colorful books and leather furniture. The Country Monastic enjoys his privacy and the quiet of the countryside.
May we remember to set aside times of refreshment. May we be fed and nourished in times of solitude.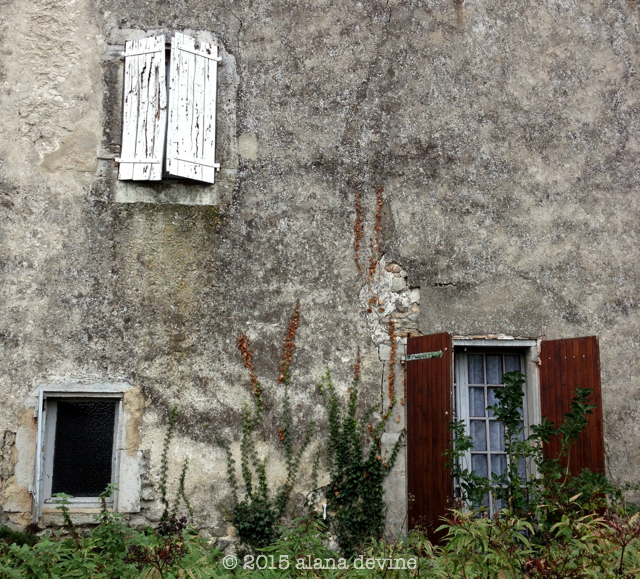 Preparing Breakfast
I imagine this is the home of an elderly couple. A bowl of fruit placed on a flowery tablecloth; a crêpe breakfast is prepared. The coffee is ready. Slippers tap slowly down the stairs.
May we find joy in creating meals and sharing them with others.
Christmas All Year Long
Bright red window; bright green door. Window curtains closed to peeking eyes, yet sheer to let light in. No mail box needed. Patches of green, rain, and crunchy leaves enliven the ground.
May we be wise discerners: able to zoom in and out; perceiving details as well as the bigger picture. May our choices be bold and bright when possible.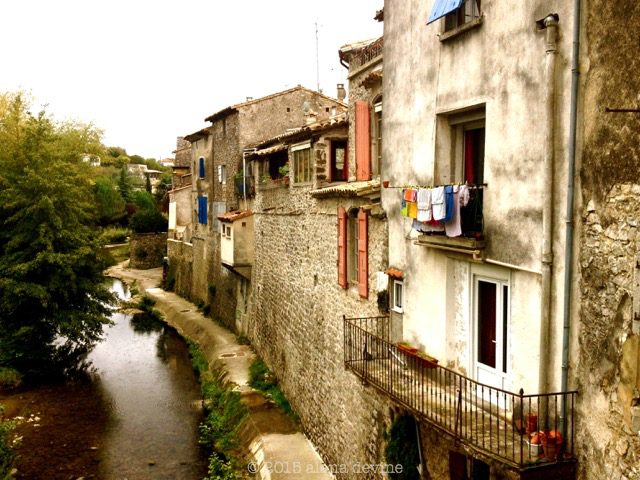 Wash at the River
Ah, clean laundry--fresh smelling and dancing in the breeze.
May we be washed by the water and restored by the wind. May we clothe ourselves with actions of love and kindness.
Out of Town
It is early morning and the street is quiet. This is a road that leads out of town, but there are three others.
May we never cease to look, to ask, and to follow.
Tribute
When one door is closed (and blocked), another one waits just around the corner.
May you have hope in the face of obstacles, and the strength to keep going.
In The Old City
Made to last, structures of beauty and detail, European cities are filled with some of the most intricate structures I have ever seen.
May we respect ourselves and our work, giving ourselves permission (and having the patience) to make beautiful things that will last.
Lucca Retreat
A humble dwelling at the top of a mountain outside of Lucca, Italy. Makes you feel so small in a place so big; the kind of place that puts things into proper perspective.
May we see things from above, even as we come down off the mountain.
Sicilian Fishermen
Here, an older gentleman spends a hot summer day in Sicily fishing with six young men. There is knowledge passing down. There is time spent together. Here there are no distractions. Here there is friendship.
May we have caring mentors to guide us, and may we pass down the love and the knowledge as they have done.